Start a club. Place some bets.
Starting Up
Give your club a name then give us yours. This could be the start of something beautiful. Now choose how much each person will chip in, and how much of that you'd like to bet. Anything left over will accumulate in the group kitty account until you choose to spend it. Good times await.
Collecting Money
Our billing system collects regular contributions automatically – whether weekly, fortnightly or monthly – so there's no chasing your mates for money. It is certainly safer than if your mate's mate was minding it.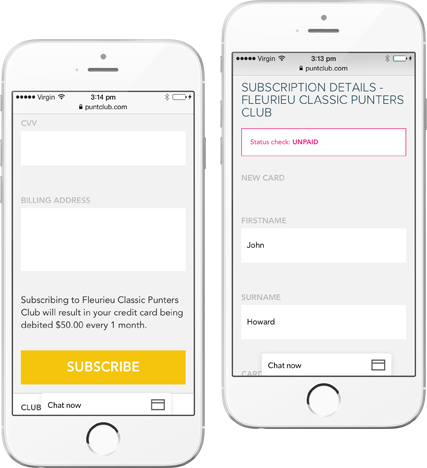 Betting
We partner with a licensed bookmaker to set the odds and settle the wagers for all our customers. Choose whether you take turns or whether everyone bets each week. All bets are posted to your dashboard wall, and we automatically notify all members when a bet is placed or resulted. Members also get a personal betting account, so you can back a club bet from the comfort of your dashboard! Bet on any sport you like – freedom is a wonderful thing.
Management & Reporting
Spreadsheets aren't much chop, so it's a good thing Punt Club tracks all wins, losses, payments and withdrawals for you. Rank your members based on winnings, view your bet history, see every transaction inside your club statement, and change your club settings at any time. The whole shebang is at your fingertips.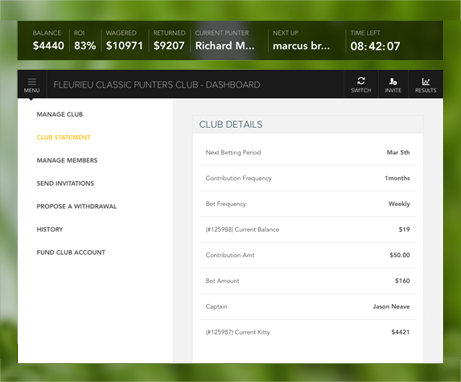 Banter
A punters club is built on a foundation of taking the piss out of your fellow members, punctuated by the occasional backslapping and high-fiving when someone salutes with a 5-leg multi paying plenty. Sledge people directly on the club wall, or just reply to any bet notification to share your disgust or delight with the rest of your crew.
Cashing Out
The other foundation element of any club is the desire to save up a fat kitty for a range of different goals, whether a world cup trip, a country race meeting, the footy grand final, or a fast horse to call your own. Members can approve a group withdrawal for whatever lofty purpose you choose, or they can cash out their personal entitlement at any time for whenever life might get in the way.